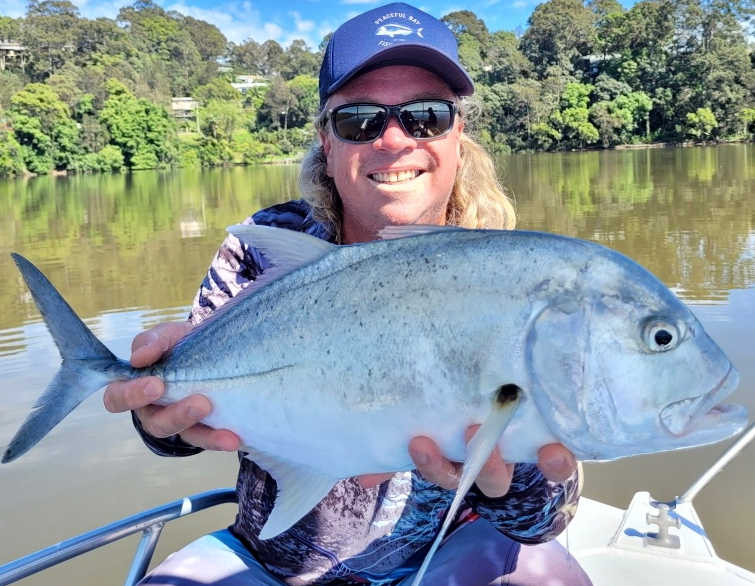 "CLARKIES" GOLD COAST FISHING REPORT – 01 December 2022
Fishing Report – 1 December 2022    
We have had a pretty mixed bag of weather this week on the Gold and Tweed Coasts, seeing hot temperatures and thunder storms at the start of the week before a strong south-easterly wind change bringing a big drop in temperature and an increase in swell. The cool change predicted will tend to put species like Mangrove Jack and Estuary Cod off the bite but it's always worth a look.
Reef Fishing
Before the south-easterly wind kicked in and the swell jumped, fishos had a pretty good run offshore. It's great to hear reports of Spotted Mackerel being caught around Palm Beach Reef, Mermaid Reef and also around the 18 fathoms grounds off the Gold Coast before December, as they were pretty late to show up last year. When the word spreads about the Spotted Mackerel being on it doesn't take long for a large number of boats to be jostling for a spot to anchor up, making the reefs a pretty crowded spot to fish. It pays to get an extra early start to make sure you find a show and get anchored up before the crowd arrives. In the past, Sharks have been an issue due to the amount of burly in the water and fish being hooked and bled once caught. When chasing Spotties, I will try a couple of different methods. I like to
have a couple of unweighted whole or half WA Pilchards floated out behind the boat and a live Yakka baited up on a stinga rig in the rod holder, whilst casting out and rapidly retrieving a metal slug to fire the fish up and also guide them closer to your baits. It's surprising just how many fish fall victim to the metal slugs rather than the baits. Once the swell drops it will be worth getting out and look for a Mackerel. Ben White has been finding some great quality reef fish lately including a cracking big Jewfish he scored whilst trying his luck on the 18 fathoms grounds off the Seaway. Swell and current permitting, there has been some good catches of Snapper, Jew Fish, Tusk fish, Trag Jew, Maori Cod, Moses Perch and Cobia. Out wider of the 36 and 50 fathom grounds the FADS have been holding good numbers of Dolphin Fish, the odd Small Black Marlin has also been hooked. On the bottom out wider current permitting there has been Snapper, Pearl Perch, Tusk Fish, Trag Jew along with some hard fighting Yellow Tail Kingfish, Samson and Amberjack. I always recommend to have the latest weather forecast before heading out for a day on the water.
Tailor
Jumpinpin has been producing good numbers of Tailor this week that have been getting stuck into schools of baitfish consisting mainly of White Bait and Herring. If you can match the size lure to the bait you should do well. Try trolling a mixture of deep and shallow diving lures until you can locate a feeding school of fish. Always keep an eye on the sky for diving birds working a feeding school of Tailor and any splashing on the surface. If you find this kind of action casting metal slugs, surface walkers and surface poppers are a fun way to catch a feed.
Tailor is great to eat fresh. Just remember to bleed them straight away and get them onto ice as soon as possible.
Best time to target Tailor is the last 2 hours of the run in and the first hour of the run-out tide. Jumpinpin Bar, Crusoe Island, Bedrooms, Tiger Mullet Channel and Canaipa Passage are some good spots to have a look.
Some good-sized Whiting have been on the menu this week with the Nerang River, Wave Break Island, Crab Island, Foreshore along Runaway Bay, Coomera River North and South Arms, Pimpama River, Jacobs Well, Cabbage Tree Point, Tiger Mullet Channel, Bedrooms and the Logan River producing nice fish. Best baits are live Blood Worms, Beach Worms and Yabbies.
QUOTES FROM THE BOATS

Brad from Brad Smith Fishing Charters reports:
"Much the same this week with continued good weather and plenty of Flathead in the middle reaches of Tweed River. Ecogear ZX40 and Samaki Vibelicious lures have been working well and catching School Jew, Mangrove Jacks, Whiting, and Bream that are all feeding on bait in the deeper holes. Hopefully the good weather continues for a while, and we'll keep seeing great fishing on light line."
Clint from Brad Smith Fishing Charters reports:
"As always there has been good days and not so good days at the Gold Coast Broadwater. The fish are not always hungry, but we have been averaging 20-40 fish a day. The water is still hovering around 22 degrees on the shallow flats. Big day time run in tides around the new moon have been pushing in cool ocean water, making it ideal conditions for Flathead. There are large schools of small whitebait in the Broadwater which the fish are feasting on. Small plastics such as ZMan ST Grubz and 6th Sense Divine swimbaits have been the lures of choice to match the hatch. Rigged on TT Demonz jigheads it is then just a matter of casting on to sandy patches near weed beds and edges to find the aggressive feeding Flathead. Always look for birds diving into the water for bait fish and the fish are never far away. My favourite set ups for small soft plastic fishing are Samaki Archer 4-8 lb, TT red belly and black mamba 2-4 kg rods matched with 2500 Okuma ITX and Ceymar HD reels. For bigger plastics and jigheads you can use 3-6 kg rods. I also have a 1-3 TT Black Mamba rod with a 1000 Okuma ITX reel which is a beautiful combo for fishing with small soft plastics such as the Zman ST Grubz and Prawnz. Again, this week's best fishing areas have been Crab Island, Little Crab Island, North Currigee, Browns inlet, and Runaway Bay. These big tides are tricky to fish with some over clear water on run in so get right up on the edges and shallow banks. Next week, the Sand Whiting should fire right up on the flats and tides are getting better. This time last year we already had some dirty water and heavy rain, but were catching 30-50 Whiting a day. It looks like some rain building again next week – hopefully not too much."
LINKS & INFO

If you have any great catches or photos you would like to share, please email us and let us know how you went. brett@coomerahouseboats.com.au or brett@fishotackle.com.au     
Stay up to date with all fishing regulations in Queensland https://www.daf.qld.gov.au/business-priorities/fisheries
Fisho Tackle and Coomera Houseboat Holidays now have Hire  follow the link to view http://www.coomerahouseboats.com.au/our-fleet-type/hire-tinnies/     
Seabreeze is a great website to access a local forecast http://www.seabreeze.com.au/graphs/  
Good luck with the Fishing. Brett