"CLARKIES" GOLD COAST FISHING REPORT 2019-07-19
'
Hi Everyone, hope you've all had a great week, the Winter Westerly's have certainly cooled things down on the Gold and Tweed Coasts. Plenty of Sunshine and light wind has produced awesome Fishing conditions for everyone to enjoy. Let's have a look at some weekend fishing options.
Fisho Tackle customers have had perfect weather for fishing this week. They have been doing well trolling hard body lures on the edges of weed beds around the Never Fail Islands, Jacobs Well, Cabbage Tree Point, Tipplers Passage, Tipplers Island and the Bedrooms temping a few nice Flathead. Trolling lures is a great way to cover ground and find fish this time of year. Once you locate fish there will usually be quite a few in the general area. Try switching to soft plastics or vibes and pepper the area to find the big Flathead that is attracting the school sized fish.
With nice weather conditions continuing finding a day with smaller swell has paid off for crews fishing the offshore grounds of the Tweed and Gold Coast with customers consistently catching some great feeds of Snapper. The Gold Coast reefs from 18 to 36 fathoms have been producing some good mixed bags of fish including Snapper, Moses, Tusk Fish, Cobia, School Mackerel, Trag Jew, Pearl Perch and plenty of big Jew Fish. Hope you get out for a fish whilst the weather is good.
Some big Bream are showing up around Jumpinpin, some good spots are Kalinga Bank, Crusoe Island, Tiger Mullet Channel, Short Island Huts, Perrys Hole, Little Rocky Point and the Power Lines. Best tip is to keep a consistent burley trail going, sometimes once you start catching fish you forget to burley and the fish will go off the bite. Try using Mullet Fillet, Mullet Gut, Prawns, White Pilchard and Yabbies.
Brad Smith Fishing Charters reports on the Tweed that now that we have clear skies and the comfortable Winter sun it's got the Flatties on the bite. Flathead are still dominating our catch rate and will continue to do so over the next couple of months. The fish are holding up in the deep holes that have good bait schools in them with the blades and Ecogear zx40 lures doing the job on them with the odd big Bream as well. Some nice size flathead are moving up in the shallows during the day to take advantage of the warmer water and are taking trolled pontoon 21 Crackjack and Greedy Guts lures.
Clint has been catching some good Flathead and Bream in shallow water in the middle to lower sections of the Nerang River and its canals. Drifting with Ecogear ZX40 blades coated in Sax Scent goldprawn, especially colours 440 and 447, and trolling with Pontoon 21 crackjacks and greedy guts in Bloody Tiger prawn and Spanish Red colours, have been the most effective methods. This usually ensures a fresh feed in the esky and plenty more released to keep growing and breeding. We caught a variety of fish on lures in the Broadwater, everywhere from Cronin island to Sovereign Island. There are heaps of arrow squid around, easily caught on Ecogear ZX40s and squid jigs, Jewfish love a squid too so try them as live bait.
Hope you all have a good weekend and get out for a fish, if you have any great catches or photos you would like to share, please email us and let us know how you went.
Fisho Tackle and Coomera Houseboat Holidays now have Hire Tinnies follow the link to view http://www.coomerahouseboats.com.au/our-fleet-type/hire-tinnies/
Seabreeze is a great website to access a local forecast http://www.seabreeze.com.au/graphs/
If you have any great catches to report or fishing photos please email them to  brett@fishotackle.com.au    Good luck with the Fishing.  Brett
Fisho Tackle operates with Coomera Houseboat Holidays. We are open 7 days a week offering a great range of Fishing Tackle Gold Coast for our local area as well as bait & ice. We have the experience and local knowledge to get you out catching fish in no time. We offer off street parking and also a courtesy jetty for customers arriving by boat. Call 07 5502 6200
Coomera Houseboat Holidays Website www.coomerahouseboats.com.au
Fisho Tackle Website http://fishotackle.business.site/
Coomera Bait & Tackle Facebook page www.facebook.com/FishoTackle
Coomera Houseboat Holidays Face Book page www.facebook.com/CoomeraHouseboatHolidays
Being up to date with the rules and regulations when fishing in Queensland is very important if you are looking at keeping a feed of fish and crabs. We do recommend you take the time to be well informed on how big a fish should be, bag limits or what crabs you are legally allowed to keep before you go fishing. Follow the link to Queensland Fisheries website to view current regulations http://www.daff.qld.gov.au/fisheries/recreational/rules-regulations or you can also pick up a rule book from us at Coomera Bait & Tackle free of charge.
See your photo here..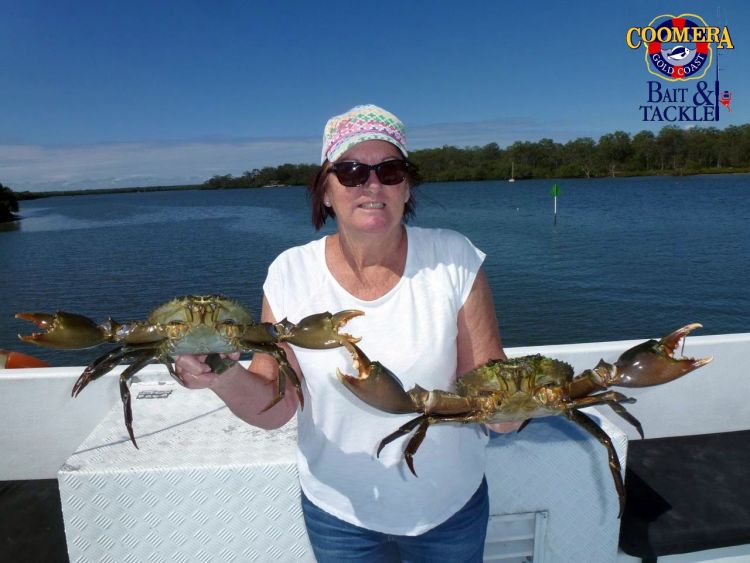 Jessica with a nice Squire
Rebecca with a nice Bream
Another quality Broadwater GT
Nice size Taylor caught in May
Winter Bream starting to Bite.
Quality Snapper caught by Wayne Young on a a Blade.
Nice feed of Whiting.
Shellene's Catch of Cod & Crab
Nice Snapper aboard a Coomera Houseboat. Quality Tailor for March. Caught From Houseboat Shangra-Lah. Brandy with a nice solid Flathead, Great Catch!07 55026200 or the website www.coomerabaitandtackle.com/ Wayne "Youngy" Young and Family back to visit us again, catching some really nice mud crabs Brett & Rebecca with a couple of whiting caught on holidays Brett with two of his recent catches with "Youngy" BP 40cm whiting Wayne "Youngy" Young with a great trevally Peter with his nice Mangrove Jack caught while on charter on DreamCatcher Keiko