"CLARKIES" GOLD COAST FISHING REPORT AS SEEN IN THE GOLD COAST BULLETIN EVERY FRIDAY
Find out what is biting with our resident fishing Guru 'Clarkie'.  Read his weekly report here every Friday…
Hi Everyone, hope you've all had a great week, early mornings and late afternoons have been the best time to go fishing with the extra hot days this week. With a strong South to South Easterly change on the way for the weekend the protected rivers and canals will be the best option to hide out of the wind.
Local angler Wayne Young did well finding a few illusive Gold Coast Tarpon on an early morning trip with his mate Pete fishing the Broadwater using soft plastics. Tarpon are a hard fighting sport fish pound for pound, they regularly jump during the fight. Unfortunately they have a very abrasive mouth and will wear through the leader quickly. Tarpon are a pinnacle spot fish for some anglers with a poor eating quality and should be released to fight another day.
With a weekend forecast looking like we will see strong S/SE winds on the Gold Coast I'd recommend sticking to the local rivers and estuary's if you're keen to get on the water for a fish. The Coomera, Nerang and Tweed River have been consistently producing some great catches of Mangrove Jack and Trevally again this week. Kirsty Walter (see photo in report) did well landing a quality Trevally on a soft plastic in the upper reaches of the Coomera River.
Coomera Bait and Tackle customers have been doing well on a mixture of Zman Minnowz soft plastics and also live bait catching some top quality Mangrove Jack around the canal pontoons in the Coomera River, Paradise Point, Runaway Bay and Nerang River all the way up to Broadbeach.
Customers have been catching a feed of Bream, Whiting and Flathead around Wave Break Island, Brown Island, Coomera River, Dux, Jacobs Well, Tiger Mullet Channel, Short Island and through Canaipa Passage.  The mangrove lined banks are holding some nice Bream and try the edges of the Sandbanks on the run out tide for a Flathead.  Try using Worms for Whiting and Yabbies, Prawns, White Pilchards, Mullet Fillet for Bream and Flathead.
On the Tweed River Brad from Brad Smith Fishing Charters has been finding his customers a few Flathead in the deeper holes and on surface lures across the shallow flats, where Bream and Whiting have also showing up. Schools of baitfish are also being smashed by the local Trevally especially around the tide changes.
Clint from Brad Smith Fishing charters reported the Gold Coast Broadwater continues to produce a variety of species on Ecogear ZX40 metal blade lures and Zerek Fish Trap soft vibes. The Seaway has produced a few nice Flathead, Flounder, Squire, Tarwhine, and Trevally. Clint has also been finding some big Kingfish using live Whiting for bait on the pipe line, unfortunately they could stop these Seaway brutes.
Hope you all have a good weekend and get out for a fish, if you have any great catches or photos you would like to share, please email us and let us know how you went.
Coomera Houseboat Holidays/Coomera Bait & Tackle now have Hire Tinnies follow the link to view http://www.coomerahouseboats.com.au/our-fleet-type/hire-tinnies/
Seabreeze is a great website to access a local forecast http://www.seabreeze.com.au/graphs/
If you have any great catches to report or fishing photos please email them to brett@coomerahouseboats.com.au    Good luck with the Fishing.  Brett
Coomera Bait & Tackle operates with Coomera Houseboat Holidays. We are open 7 days a week offering a great range of Fishing Tackle Gold Coast for our local area as well as bait & ice. We have the experience and local knowledge to get you out catching fish in no time. We offer off street parking and also a courtesy jetty for customers arriving by boat. Call 07 5502 6200
Coomera Houseboat Holidays Website www.coomerahouseboats.com.au
Coomera Bait & Tackle Website http://coomera-bait-and-tackle.business.site/
Coomera Bait & Tackle Facebook page www.facebook.com/CoomeraBaitandTackle
Coomera Houseboat Holidays Face Book page www.facebook.com/CoomeraHouseboatHolidays
Being up to date with the rules and regulations when fishing in Queensland is very important if you are looking at keeping a feed of fish and crabs. We do recommend you take the time to be well informed on how big a fish should be, bag limits or what crabs you are legally allowed to keep before you go fishing. Follow the link to Queensland Fisheries website to view current regulations http://www.daff.qld.gov.au/fisheries/recreational/rules-regulations or you can also pick up a rule book from us at Coomera Bait & Tackle free of charge.
See your photo here..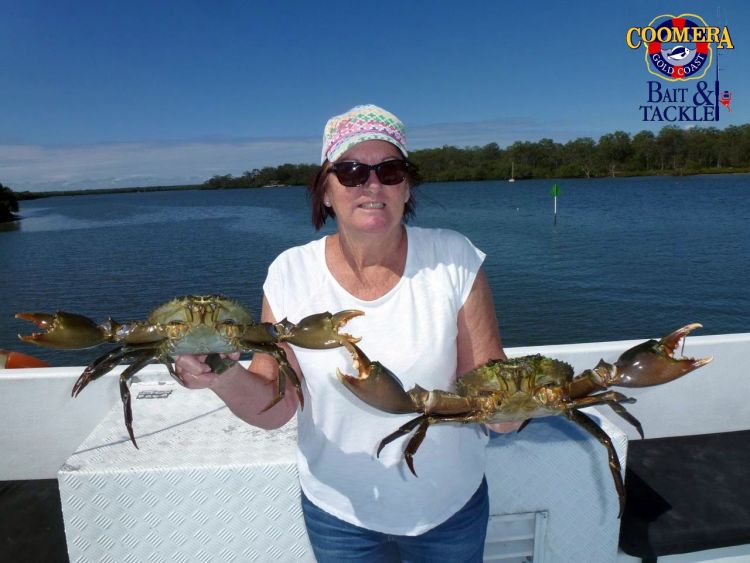 Jessica with a nice Squire
Rebecca with a nice Bream
Another quality Broadwater GT
Nice size Taylor caught in May
Winter Bream starting to Bite.
Quality Snapper caught by Wayne Young on a a Blade.
Nice feed of Whiting.
Shellene's Catch of Cod & Crab
Nice Snapper aboard a Coomera Houseboat. Quality Tailor for March. Caught From Houseboat Shangra-Lah. Brandy with a nice solid Flathead, Great Catch!07 55026200 or the website www.coomerabaitandtackle.com/ Wayne "Youngy" Young and Family back to visit us again, catching some really nice mud crabs Brett & Rebecca with a couple of whiting caught on holidays Brett with two of his recent catches with "Youngy" BP 40cm whiting Wayne "Youngy" Young with a great trevally Peter with his nice Mangrove Jack caught while on charter on DreamCatcher Keiko