GOLD COAST FISHING REPORT WITH 'CLARKIE' FROM COOMERA BAIT & TACKLE
Find out what is biting with our resident fishing Guru 'Clarkie'.  Read his weekly report here every Friday…
After more wind and swell on the Gold Coast this week it's great to see a fantastic weather forecast on the way for this weekend and the following week. With School holidays starting Friday, let's have a look at a few fishing options to keep the kids busy on the Gold Coast.
It's been great to see lots of family's heading out on the houseboats and also calling in to buy bait and asking advice on how to get the kids started into fishing. We have seen some nice Bream, Whiting and Flathead landed and the smiles from the kids say it all.  With so much technology at your fingertips nowadays it's nice to get back to basics and enjoy some quality time fishing.  If you have a boat on the Gold Coast you have lots of options from rivers & creeks to the Broadwater & Pin. Land based fishing is also very popular especially with younger ones as you can access beaches and facilities.  A light estuary outfit with a running sinker rig is fine, Prawns, Worms & Yabbies are great bait, the kids love pumping Yabbies and you will find a large number of fish species to catch.  Some good spots to try are Coomera River, Paradise Point, Runaway Bay, Labrador, Biggera Waters, Southport, Marine Stadium, Nerang River and Jacobs Well.
Our houseboat customers have reported good catches of Bream this week, the boys from the Racecourse Hotel Fishing Club also had some success last weekend finding some great fish up to 40cm. Jumpinpin has been fishing well around Crusoe Island, Short Island, Eden Island, Tiger Mullet Channel, Whalleys Gutter and Jacobs Well.  The Logan River, Coomera River, Wave Break Island and the Gold Coast Seaway are also producing fish.  Best baits are Mullet Gut, Mullet Fillet, Prawns, White Pilchards, WA Pilchard pieces and Yabbies.
Jew Fish have been active this week, the colder June nights have certainly switched on the bite.  The Pin Bar mouth and Gold Coast Seaway have both been very productive, as we see more Mullet and Tailor schools move in the average size of fish should start to get bigger.  Using live bait, large Plastics, Vibes and Jigs has been working well on the last 2 hours of the rising tide and the first hour of the run out.  Look for bait schools on the sounder and listen out for top water activity as the larger jewfish will smash bait fish on the surface at night. Smaller school Jew have been a common catch in the Logan River, Jumpinpin throughout the Broadwater so far this winter.  Just remember the 75cm minimum size limit and bag limit of 2 fish per angler.  https://www.daf.qld.gov.au/fisheries/species-identification/inshore-estuarine-species/jewfish/mulloway
Hope you all have a good weekend and get out for a fish, if you have any reports please let us know how you went.
Coomera Houseboat Holidays/Coomera Bait & Tackle now have Hire Tinnies follow the link to view http://www.coomerahouseboats.com.au/our-fleet-type/hire-tinnies/
Seabreeze is a great website to access a local forecast http://www.seabreeze.com.au/graphs/
At the time of writing my report the forecast is looking great the weekend.  Light W winds on Saturday then tending light S/E direction on Sunday. With the swell easing Sunday is looking great to head offshore to fish the local reefs.  Just make sure you have the most up to date forecast before heading out on the water.
If you have any great catches to report or fishing photos please email them to brett@coomerahouseboats.com.au    Good luck with the Fishing.  Brett
Coomera Bait & Tackle operates with Coomera Houseboat Holidays. We are open 7 days a week offering a great range of Fishing Tackle Gold Coast for our local area as well as bait & ice. We have the experience and local knowledge to get you out catching fish in no time. We offer off street parking and also a courtesy jetty for customers arriving by boat. Call 07 5502 6200
Coomera Bait & Tackle Facebook page www.facebook.com/CoomeraBaitandTackle
Coomera Houseboat Holidays Facebook page www.facebook.com/CoomeraHouseboatHolidays
Being up to date with the rules and regulations when fishing in Queensland is very important if you are looking at keeping a feed of fish and crabs. We do recommend you take the time to be well informed on how big a fish should be, bag limits or what crabs you are legally allowed to keep before you go fishing. Follow the link to Queensland Fisheries website to view current regulations http://www.daff.qld.gov.au/fisheries/recreational/rules-regulations or you can also pick up a rule book from us at Coomera Bait & Tackle free of charge.
See your photo here..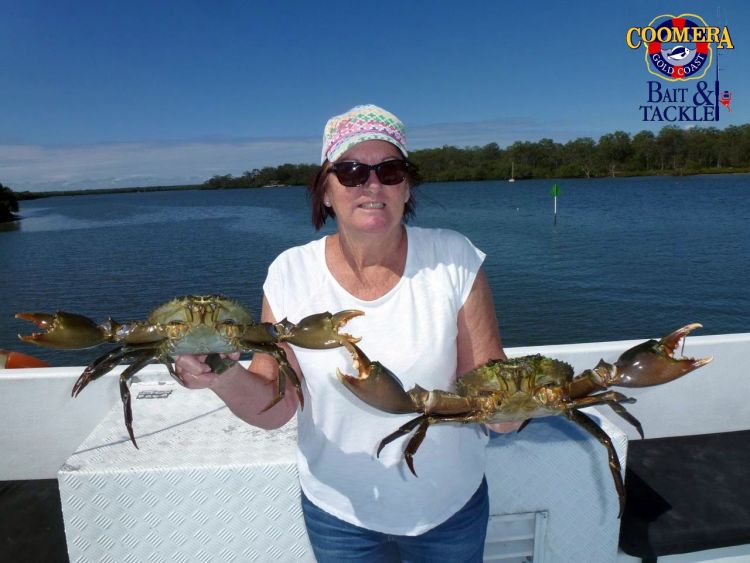 Jessica with a nice Squire
Rebecca with a nice Bream
Another quality Broadwater GT
Nice size Taylor caught in May
Winter Bream starting to Bite.
Quality Snapper caught by Wayne Young on a a Blade.
Nice feed of Whiting.
Shellene's Catch of Cod & Crab
Nice Snapper aboard a Coomera Houseboat. Quality Tailor for March. Caught From Houseboat Shangra-Lah. Brandy with a nice solid Flathead, Great Catch!07 55026200 or the website www.coomerabaitandtackle.com/ Wayne "Youngy" Young and Family back to visit us again, catching some really nice mud crabs Brett & Rebecca with a couple of whiting caught on holidays Brett with two of his recent catches with "Youngy" BP 40cm whiting Wayne "Youngy" Young with a great trevally Peter with his nice Mangrove Jack caught while on charter on DreamCatcher Keiko