"CLARKIES" GOLD COAST FISHING REPORT AS SEEN IN THE GOLD COAST BULLETIN EVERY FRIDAY
'
Hi Everyone, hope you've all had a great week, the weather has been absolutely stunning on the Gold and Tweed coasts with light winds, small swell and warm sunny days perfect for fishing.  Coomera Bait & Tackle has a new name. We will now be known as Fisho Tackle. Same shop, same crew, same great brands. Let's check out what's been biting.
With light winds and a small swell hanging around chasing Tailor from the surf beaches from the Tweed to the Southport Spit is a great option. Finding a good gutter is essential, going for a look at low tide makes spotting a gutter easier, you are looking for a deep section of water with a sandbank behind it and with deeper water at either end. The best time to target Tailor is the last 2 hours before high tide either early morning or late afternoon into the evening. Hopefully bait fish will make their way into the gutter to hide and the predatory Tailor will follow. The most common rig is a set of 3 or 4 gang 3/0 or 4/0 hooks depending on the size of bait combined with a running sinker rig. I do prefer to use a long mono trace and you will always get more bites, sometimes you will get bitten off but it will be more productive than a wire trace. If the fish are thick the wire trace will work fine. The best baits are WA Pilchards, Mullet Fillet, Bonito Fillet and even Tailor Fillet if you running low on bait. Throwing metal slugs is another great option if you prefer lure fishing, try a few different size slugs until you can match the size of the bait fish they are feeding on. If the Tailor fishing is a bit slow you can also down size your rig and target Dart and Bream for a great feed.
Fantastic conditions for those lucky anglers keen to get offshore for a look, the 50 and 36 fathom reefs off the Gold Coast are fishing well with some quality Snapper, Pearl Perch, Amber Jack, Cobia and mixed reef species. The 24 and 18 fathoms reefs have also been producing for those with smaller boats or not wanting to travel out so far seeing some nice Snapper, Cobia, School Mackerel, Jew Fish, Trag Jew, Moses and Tusk Fish.
Bread and butter species like Bream, Whiting and Flathead have been the main target for anglers fishing the Tweed River, Broadwater and Jumpinpin area chasing a feed. Customers have done well scoring a nice feed from the Tweed River, Nerang River, Coomera River, Pimpama River, Jacobs Well, Tiger Mullet Channel, Whalleys Gutter, Short Island and Logan River. Prawns, Yabbies, Worms, Mullet Fillet or Live Herring are all great baits.
Brad Smith Fishing Charters reports the middle reaches of both the Tweed and Nerang Rivers are producing amazing numbers of Flathead of all sizes at present, with most days producing over 20 fish per trip. There have been some good numbers of Bream attacking our lures as well in the same area but at this stage they have been small. The big Bream are not far from entering our river mouths. Small Giant Trevally are still hanging around the deeper holes in the middle reaches and are hitting the lures around the first of the run in tides.
Hope you all have a good weekend and get out for a fish, if you have any great catches or photos you would like to share, please email us and let us know how you went.
Fisho Tackle and Coomera Houseboat Holidays now have Hire Tinnies follow the link to view http://www.coomerahouseboats.com.au/our-fleet-type/hire-tinnies/
Seabreeze is a great website to access a local forecast http://www.seabreeze.com.au/graphs/
If you have any great catches to report or fishing photos please email them to  brett@fishotackle.com.au    Good luck with the Fishing.  Brett    Fisho Tackle operates with Coomera Houseboat Holidays. We are open 7 days a week offering a great range of Fishing Tackle Gold Coast for our local area as well as bait & ice. We have the experience and local knowledge to get you out catching fish in no time. We offer off street parking and also a courtesy jetty for customers arriving by boat. Call 07 5502 6200
Coomera Houseboat Holidays Website www.coomerahouseboats.com.au
Fisho Tackle Website http://fishotackle.business.site/
Coomera Bait & Tackle Facebook page www.facebook.com/FishoTackle
Coomera Houseboat Holidays Face Book page www.facebook.com/CoomeraHouseboatHolidays
Being up to date with the rules and regulations when fishing in Queensland is very important if you are looking at keeping a feed of fish and crabs. We do recommend you take the time to be well informed on how big a fish should be, bag limits or what crabs you are legally allowed to keep before you go fishing. Follow the link to Queensland Fisheries website to view current regulations http://www.daff.qld.gov.au/fisheries/recreational/rules-regulations or you can also pick up a rule book from us at Coomera Bait & Tackle free of charge.
See your photo here..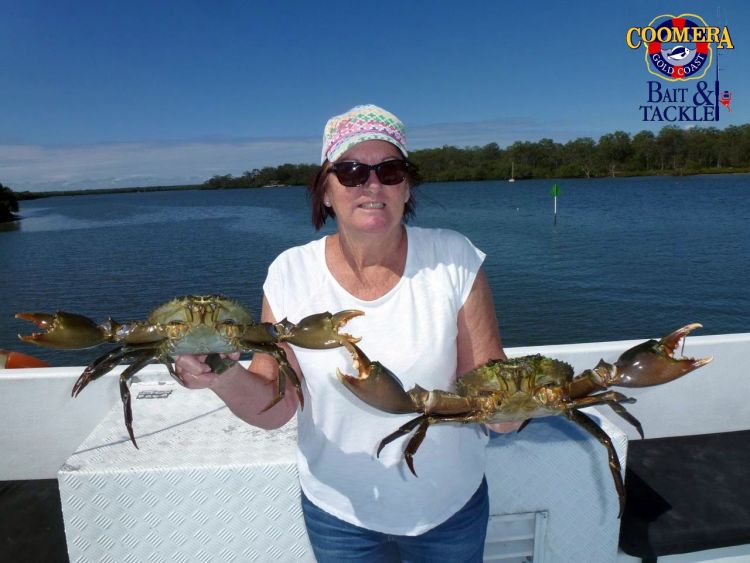 Jessica with a nice Squire
Rebecca with a nice Bream
Another quality Broadwater GT
Nice size Taylor caught in May
Winter Bream starting to Bite.
Quality Snapper caught by Wayne Young on a a Blade.
Nice feed of Whiting.
Shellene's Catch of Cod & Crab
Nice Snapper aboard a Coomera Houseboat. Quality Tailor for March. Caught From Houseboat Shangra-Lah. Brandy with a nice solid Flathead, Great Catch!07 55026200 or the website www.coomerabaitandtackle.com/ Wayne "Youngy" Young and Family back to visit us again, catching some really nice mud crabs Brett & Rebecca with a couple of whiting caught on holidays Brett with two of his recent catches with "Youngy" BP 40cm whiting Wayne "Youngy" Young with a great trevally Peter with his nice Mangrove Jack caught while on charter on DreamCatcher Keiko