GOLD COAST FISHING REPORT WITH 'CLARKIE' FROM COOMERA BAIT & TACKLE
Find out what is biting with our resident fishing Guru 'Clarkie'.  Read his weekly report here every Friday…
Another week of rain, wind, swell and big tides made fishing conditions tough on the Gold Coast.  For those keen to brave the weather and try fishing the more sheltered rivers and creeks produced a few fish and crabs.
Our Houseboat customers have managed to hide out of the wind and score a few nice Flathead, Whiting, Bream, Sand Crabs and Mud Crabs this week. Good spots out of the SE winds have been Tiger Mullet both eastern and western end, Tipplers Passage, Coomera River North Arm, Pimpama River, Crusoe Island North Side, Slipping Sands and Coby Passage. Prawns and Yabbies have been a good all round bait for most species. White Pilchards are great for Flathead and for Whiting worms and also Yabbies have tempted some quality fish.
With the wind easing on the weekend and some big tides around, chasing Prawns will be a good option. Most people would have been off the water this week so searching for the schools will involve a cruise around the normal spots anywhere from Jacobs Well to the bottom of Macleay Island keeping your eyes on the sounder and also watching out for other boats casting in the distance. We still have few Pro Throw top pocket cast nets in stock.
While the wind has been blowing I have been using google earth to locate some creeks and ponds in my local area and chasing Tilapia, Mullet and Bass. Tilapia are an invasive species and must not be returned to the water, they must be dispatched and put in a bin away from the water. For more information see this link https://www.daf.qld.gov.au/business-priorities/fisheries/pest-fish/noxious-fish/tilapia
This weekend I will be fishing in the Pirtek Fishing Challenge with my kids chasing Whiting in the Queensland species division https://pirtekfishingchallenge.com.au/ It's a great day on the water with all monies raised going to Prostate Cancer research. Just for entering you get a Hat, Brag mat, sticker and automatically into the draw for some awesome prizes. Good luck to everyone fishing.
Hope you all have a good weekend and get out for a fish, if you have any reports please let us know how you went.
Coomera Houseboat Holidays/Coomera Bait & Tackle now have Hire Tinnies follow the link to view http://www.coomerahouseboats.com.au/our-fleet-type/hire-tinnies/
Seabreeze is a great website to access a local forecast http://www.seabreeze.com.au/graphs/
At the time of writing my report the forecast the forecast looks great for the weekend. We will see the winds ease on Friday afternoon back moderate SE winds. Saturday will be moderate SE winds by Sunday the wind be light NE being the pick on the days to get out on the water.
If you have any great catches to report or fishing photos please email them to brett@coomerahouseboats.com.au    Good luck with the Fishing.  Brett
Coomera Bait & Tackle operates with Coomera Houseboat Holidays. We are open 7 days a week offering a great range of Fishing Tackle Gold Coast for our local area as well as bait & ice. We have the experience and local knowledge to get you out catching fish in no time. We offer off street parking and also a courtesy jetty for customers arriving by boat. Call 07 5502 6200
Coomera Houseboat Holidays Website www.coomerahouseboats.com.au
Coomera Bait & Tackle Website http://coomera-bait-and-tackle.business.site/
Coomera Bait & Tackle Facebook page www.facebook.com/CoomeraBaitandTackle
Coomera Houseboat Holidays Face Book page www.facebook.com/CoomeraHouseboatHolidays
Being up to date with the rules and regulations when fishing in Queensland is very important if you are looking at keeping a feed of fish and crabs. We do recommend you take the time to be well informed on how big a fish should be, bag limits or what crabs you are legally allowed to keep before you go fishing. Follow the link to Queensland Fisheries website to view current regulations http://www.daff.qld.gov.au/fisheries/recreational/rules-regulations or you can also pick up a rule book from us at Coomera Bait & Tackle free of charge.
See your photo here..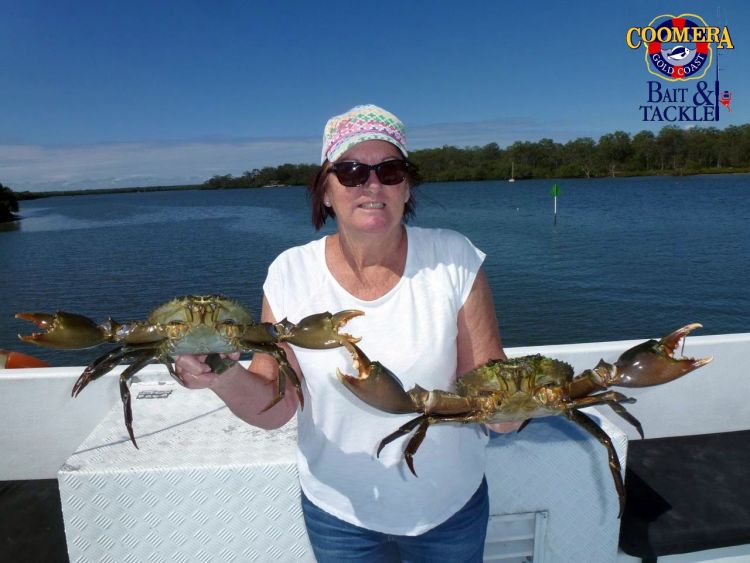 Jessica with a nice Squire
Rebecca with a nice Bream
Another quality Broadwater GT
Nice size Taylor caught in May
Winter Bream starting to Bite.
Quality Snapper caught by Wayne Young on a a Blade.
Nice feed of Whiting.
Shellene's Catch of Cod & Crab
Nice Snapper aboard a Coomera Houseboat. Quality Tailor for March. Caught From Houseboat Shangra-Lah. Brandy with a nice solid Flathead, Great Catch!07 55026200 or the website www.coomerabaitandtackle.com/ Wayne "Youngy" Young and Family back to visit us again, catching some really nice mud crabs Brett & Rebecca with a couple of whiting caught on holidays Brett with two of his recent catches with "Youngy" BP 40cm whiting Wayne "Youngy" Young with a great trevally Peter with his nice Mangrove Jack caught while on charter on DreamCatcher Keiko