GOLD COAST FISHING REPORT WITH 'CLARKIE' FROM COOMERA BAIT & TACKLE
Find out what is biting with our resident fishing Guru 'Clarkie'.  Read his weekly report here every Friday…
We've had and great week on the Gold Coast finally getting some consistent weather this week and the forecast is looking awesome for fishing for the next week as well. Let's have a look at a few fishing options.
The forecast is looking great for heading offshore for a fish, you have plenty of options to choose from depending on your preferred target species. With the warmer water and increased current, Pelagic species will be the target of most anglers. The wide grounds beyond the 100 fathom line have been fishing well with plenty of Blue Marlin bites, a few Stripes and larger Black Marlin also being encountered. I'm sure there will be plenty of boats trolling for little Black Marlin, Dolphin Fish and Wahoo from the bait grounds out to the 36 fathom line from the East of the Seaway North to the pin.
A few Spotted and the odd Spanish Mackerel have started to show up down at Palm Beach and Mermaid reef. Bottom fishing will also be worth a go throughout the summer season with Snapper, Jew, Moses, Trag, Cobia and Tusk on offer, you may need extra weight to get to the bottom depending on current.
Lots of local fishos have been targeting Bull Sharks in the rivers the past few weeks with plenty of hook ups on offer after the recent rain. Fish have varied in size depending on the size of bait used, lots of little pups under the metre mark up to 2m plus for the serious angler. The Coomera River and Logan River are great spots to try your luck.
Customers have been scoring a nice feed of Whiting, Bream and a few Flathead this week throughout the Broadwater and Jumpinpin. Local kids on holidays are catching a few Bream, Flathead and Whiting off the bank next to our shop in the Coomera River.  Our Houseboat customers have found a few nice fish so far during School Holidays around Tipplers Passage, Dux, The Never Fail Islands, Tiger Mullet Channel, Bedrooms, Jacobs Well, North Arm of the Coomera River and Wave Break Island. Also try Paradise Point, Runaway Bay and Labrador foreshore are good land based spots.
It's always worth throwing in the crab pots, customers have been catching a feed of Mud Crabs and Sand Crabs this week.
If you're heading out on the weekend make sure to put the Crab Pots in while you're having a fish.
Hope you all have a good weekend and get out for a fish, if you have any reports please let us know how you went.
Coomera Houseboat Holidays/Coomera Bait & Tackle now have Hire Tinnies follow the link to view http://www.coomerahouseboats.com.au/our-fleet-type/hire-tinnies/
Seabreeze is a great website to access a local forecast http://www.seabreeze.com.au/graphs/
At the time of writing my report we will see light NE winds and plenty of Sunshine for the weekend and into next week at this stage. Make sure you have the most up to date forecast before heading out on the water.
If you have any great catches to report or fishing photos please email them to brett@coomerahouseboats.com.au    Good luck with the Fishing.  Brett
Coomera Bait & Tackle operates with Coomera Houseboat Holidays. We are open 7 days a week offering a great range of Fishing Tackle Gold Coast for our local area as well as bait & ice.
Being up to date with the rules and regulations when fishing in Queensland is very important if you are looking at keeping a feed of fish and crabs. We do recommend you take the time to be well informed on how big a fish should be, bag limits or what crabs you are legally allowed to keep before you go fishing. Follow the link to Queensland Fisheries website to view current regulations http://www.daff.qld.gov.au/fisheries/recreational/rules-regulations or you can also pick up a rule book from us at Coomera Bait & Tackle free of charge.
See your photo here..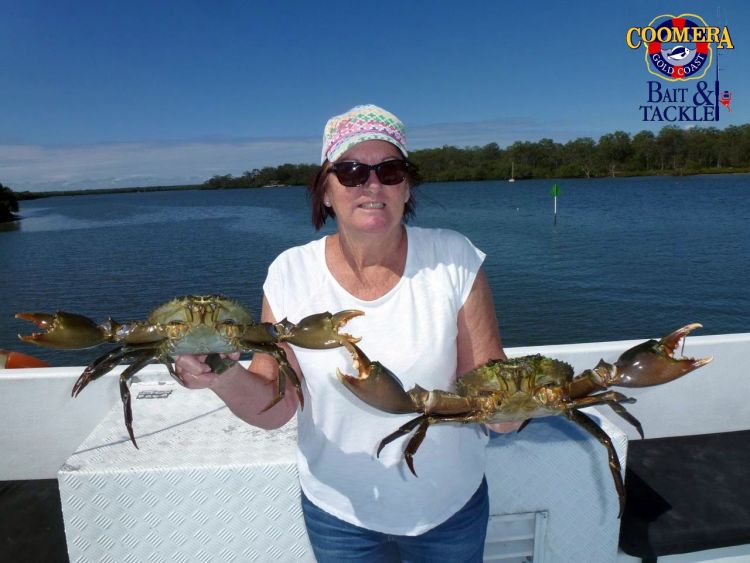 Jessica with a nice Squire
Rebecca with a nice Bream
Another quality Broadwater GT
Nice size Taylor caught in May
Winter Bream starting to Bite.
Quality Snapper caught by Wayne Young on a a Blade.
Nice feed of Whiting.
Shellene's Catch of Cod & Crab
Nice Snapper aboard a Coomera Houseboat. Quality Tailor for March. Caught From Houseboat Shangra-Lah. Brandy with a nice solid Flathead, Great Catch!07 55026200 or the website www.coomerabaitandtackle.com/ Wayne "Youngy" Young and Family back to visit us again, catching some really nice mud crabs Brett & Rebecca with a couple of whiting caught on holidays Brett with two of his recent catches with "Youngy" BP 40cm whiting Wayne "Youngy" Young with a great trevally Peter with his nice Mangrove Jack caught while on charter on DreamCatcher Keiko